Working for you: The CFL engineering works in 2021
construction works/projects
//
9 February 2021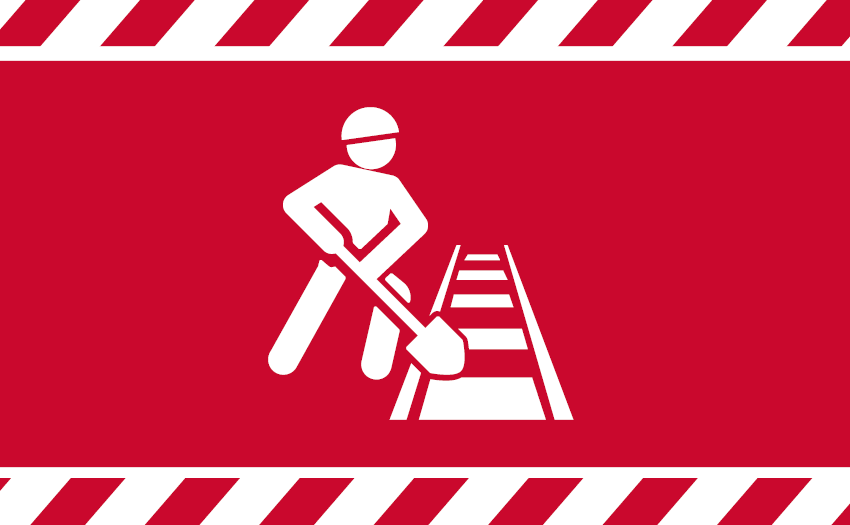 Your mobility partner
For the past 75 years, CFL has been an indispensable partner for mobility in the Grand-Duchy. We are constantly on the move, doing everything to support you in your private and business life. With the aim of providing you with services tailored to your needs, we are continuing to develop and to improve our infrastructure and offers.
Our engineering works are aimed at developing our services
Our main goal is to offer you a high-quality service.
Our maintenance, modernisation and extension works are all aimed at improving the following fields:
Making public transport more attractive
Increasing the quality of the services offered:

Increasing both the capacity of the network and rolling stock used
Improving punctuality by having separate tracks for different lines, all with a view to:

Avoiding delays due to possible disruptions on the busiest sections, which are carried over due to trains having to cross the tracks from other lines
Creating line-specific tracks

Improving reliability
The different time schedules for the engineering works in 2021 will enable the CFL to move forward in parallel on several major projects on the network and to group together work to extend, modernise or maintain rail infrastructure.
All information about current engineering work periods and alternative measures can be found at www.infotravauxcfl.lu.
---
Overview of the engineering works during phase 1 (from 03/12/20 to 02/04/21)
Between the beginning of January and the end of March 2021, several line closures on weekends will enable work to continue in order to redevelop the Buchler Bridge, near Luxembourg Station. During these weekends, rail replacement buses will be operating on the following sections:
Luxembourg – Kleinbettingen – Arlon (Line 50); Luxembourg – Hollerich (Line 70); Luxembourg – Esch-sur-Alzette – Noertzange – Rumelange (Line 60); Luxembourg – Bettembourg (Lines 60 and 90).
On line 10 at Ettelbruck station, preparations for the placing in service of the new track 5 (planned for April 2021) are ongoing. Work is being carried out on the catenaries, signals and track switches. Work on the catenary installations will require the closure of the Ettelbruck – Diekirch section from 12th February 2021 to 21st February 2021 inclusive.
From 16th to 21st February 2021, train traffic on line 60 between Esch-sur-Alzette and Rodange will be interrupted, in particular due to catenary maintenance, between Oberkorn and Belval-Lycée. Preparations for the construction of a bridge for active mobility over the railway tracks in Differdange (to be built by the Administration des Ponts et Chaussées) are planned for the same period.
From 1st March until 25th April 2021 inclusive, work on the Belgian rail network by the infrastructure manager Infrabel will affect traffic on line 70. The section between Rodange and Athus will be closed.
---
Summary of major projects
Click on one of our major projects to find out more:
Extension of Luxembourg Station
New Luxembourg – Bettembourg line
Howald hub
Ettelbruck hub
Rodange hub
Mersch hub
Level crossings removal
Associated projects with other partners
---
Extension of Luxembourg Station
Engineering works and objectives:
Improved accessibility for people with reduced mobility, construction of a new footbridge
Easy access for all customers (ground-level entrance accessible by wheelchair, lifts, podotactile lines)
Construction of 2 new platforms served by 4 new track
Additional capacities for this key rail hub
Adaptation of the Rodange Station track layout, with dedicated tracks for each line
Improved punctuality
Fewer cancellations, fewer trains crossing the tracks of other lines
Introduction of corridors for cross-country lines
Introduction of a rail corridor for a more reliable North-South connection (more punctual trains, fewer cancellations)
Construction of 250-metre platforms
Possibility of accommodating longer trains, with an increased seating offer
---
New Luxembourg – Bettembourg line
Engineering works and objectives:
Construction of a new 2-track, 7-km stretch
Two new tracks for the 90 line ("sillon lorrain")
Higher capacity on this busy section
Smoother and more punctual traffic, less congestion on the Luxembourg – Bettembourg section
Higher-performance link between the south of the country and the capital's major business centres, in particular Howald and Luxembourg-Ville
Improved cross-border services and simultaneous passenger and freight train operations on the existing Luxembourg–Bettembourg line during the rush-hour
Better freight operations (between Germany, the Benelux countries, France, Switzerland and Italy)
---
Howald hub
Engineering works and objectives:
Creation of an interchange hub for passengers using trains, bikes and other forms of public transport
Making it easier to switch means of transport (bus, tram, bike, train)
Train connection to new and thriving business centres (the workplaces of many CFL customers) – Ban de Gasperich, Cloche d'Or, Howald
Improved accessibility for people with reduced mobility
Easy access for all customers (ground-level entrance accessible by wheelchair, lifts, podotactile lines)
Creation of a new railway stop with 2 additional platforms (phase 2)
Improving the station's performance (making it able to handle more trains simultaneously) and flexibility (e.g. in the event of disruptions)
Easy access to public transport serving the Ban de Gasperich for passengers from the "sillon lorrain"
Changes to the track layout at the Howald stop
Separation of train departures/arrivals for the 60 and 90 lines, with a view to connecting Howald station to the future Luxembourg – Bettembourg line
Rail corridor linking the north and south of Luxembourg, smoother and more punctual traffic
Connecting the Howald stop to the new Luxembourg – Bettembourg line
Trains from the "sillon lorrain" to Luxembourg via the new Luxembourg – Bettembourg line
Increasing the platforms to 250 metres
Possibility of accommodating longer trains, with an increased seating offer
---
---
Ettelbruck hub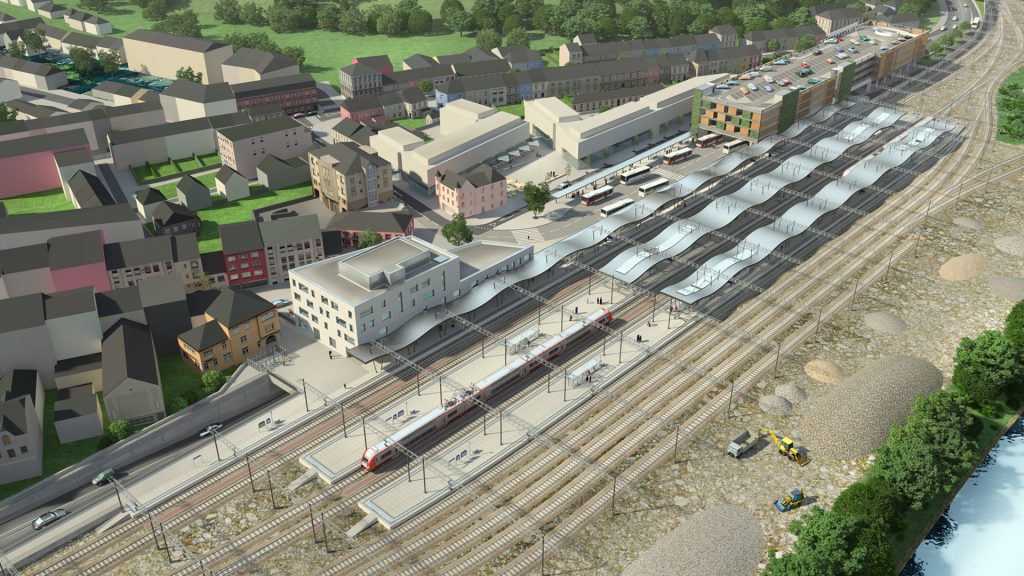 Engineering works and objectives:
Creation of an interchange hub for passengers using trains and other forms of transport: cars (construction of a P&R carpark with 430 places), buses, bikes
Making it easier to switch means of transport (bus, bike, train)
Improved accessibility for people with reduced mobility
Easy access for all customers (ground-level entrance accessible by wheelchair, lifts, podotactile lines)
Reconstruction of the passenger building
More attractive, modern and comfortable facilities
Construction of two additional platforms
Improving the station's performance (making it able to handle more trains simultaneously) and flexibility (e.g. in case of disruptions)
Increasing the platforms to 250 metres
Possibility of accommodating longer trains, with an increased seating offer
---
Rodange hub
Engineering works and objectives:
Creation of an interchange hub for passengers using trains, bikes and other forms of public transport
Making it easier to switch means of transport (bus, bike, train)
Improved accessibility for people with reduced mobility
Easy access for all customers (ground-level entrance accessible by wheelchair, lifts, podotactile lines)
Construction of a P&R carpark
Construction of an additional platform
Improving the station's performance (making it able to handle more trains simultaneously) and flexibility (e.g. in case of disruptions)
Adaptation of the Rodange Station track layout, with dedicated tracks for each line
Improved punctuality
Fewer trains crossing the tracks of other lines
---
Mersch hub
Engineering works and objectives:
Creation of an exchange hub for passengers using trains, bikes and other forms of public transport
Making it easier to switch means of transport (bus, bike, train)
Improving accessibility for people with reduced mobility
Easy access for all customers (ground-level entrance accessible by wheelchair, lifts, podotactile lines)
More attractive, modern and comfortable facilities
Increasing the platforms to 250 metres
Possibility of accommodating longer trains, with an increased seating offer
Construction of a P&R carpark
---
Removal of level crossings
Engineering works and objectives:
Removal of level crossings
Improved safety: removal of accident-prone road-rail intersections
Removal of facilities with a potential negative impact on punctuality in the event of disruptions (technical glitches, damage caused by third parties)
---
Associated projects with other partners
Pont Buchler (Project of the Administration des Ponts et Chaussées)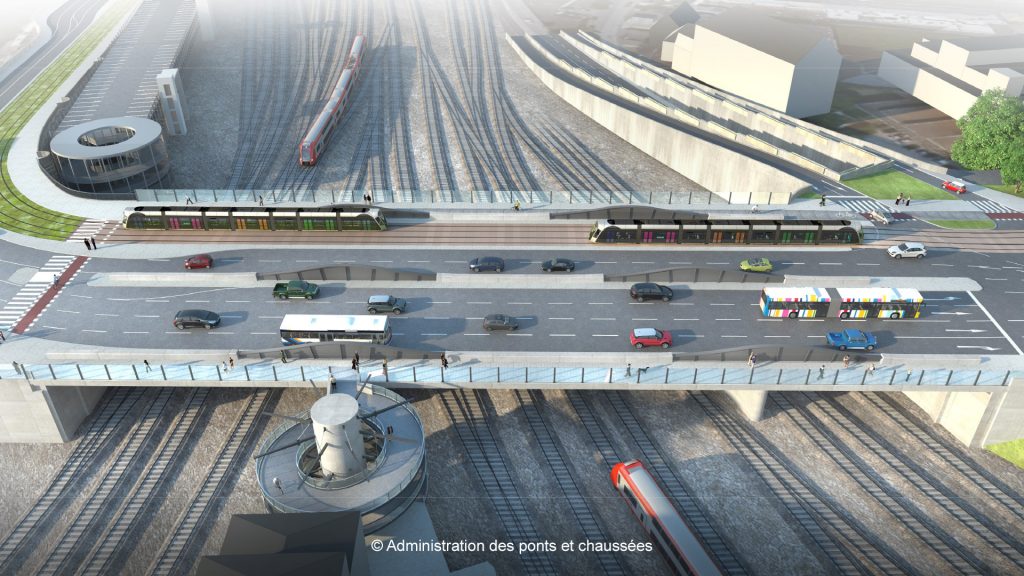 Engineering works and objectives:
Conversion of the Pont Buchler into a multimodal bridge
Ad hoc closures of the 50, 70, 60/90 lines in the critical phases of the work to ensure safety
Enabling cyclists, pedestrians, tram, bus and car users to easily get from the station and its surrounding districts (Centre Limpertsberg, Kirchberg etc.) to Bonnevoie (in the direction of Howald, Ban de Gasperich, Cloche d'Or)
---
Rangwee II Howald (Project belonging to the Administration des Ponts et Chaussées)
Engineering works and objectives:
Increasing the capacity of the Rangwee tunnel and ad hoc closures of the 60/90 lines in the critical phases of the work to ensure safety
New underpass connecting Howald with the Gluck roundabout (redevelopment / extension of streets in the context of the tram project)