InfoPoint – at your service
Simply explained
//
29 May 2019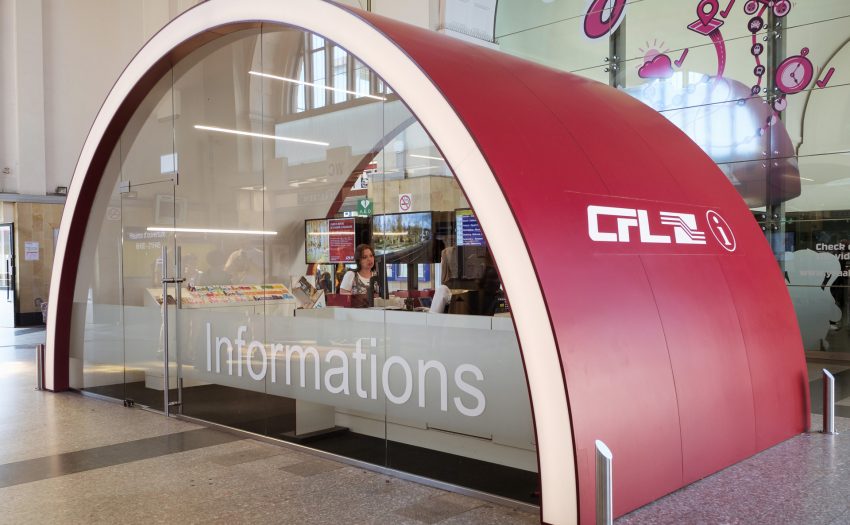 As a point of convergence for the train lines of the Luxembourg rail network, the Luxembourg Central Station welcomes, day after day, an impressive number of travelers. To meet the needs of the 70,000 people who walk daily on the platforms of the Luxembourg Central Station, the InfoPoint employees are there for you 7 days a week.
A wide range of information
Whether you are wondering about the time of arrival or departure of your next train, or even about the price of national or international transport tickets, you will find your answer behind the glass doors of the InfoPoint, located in the hall of the Central Station.
To make your journey as comfortable as possible, InfoPoint employees have real-time information on the traffic situation of the national and cross-border rail network. The information is shared on request, or through display screens located within the InfoPoint,
During construction periods or for any possible disturbance on the network, you will be able to obtain information quickly and avoid queues at the various counters of the station, by contacting the InfoPoint staff directly. Who will contact other CFL services to provide you with information concerning your line.
Way finding at the station and beyond
From Monday to Sunday, from 6 am to 9.45 pm, two shifts of two employees work at the InfoPoint.
They provide information about the various services of the Luxembourg Station, the international counter, the bus station or taxis, or restroom facilities.
Luxembourg Station is not only the meeting point for Luxembourg residents or workers. It is also an ideal landmark for tourists and other casual visitors to discover the capital of Luxembourg. InfoPoint employees can also highlight various points of interest of the city.
It is not uncommon to see InfoPoint employees answer questions with regards to the CFL mobile applications (CFL Mobile and CFL International). Customers are handed flyers for the use of these apps as well as occasional CFL offers, in the InfoPoint "Igloo" .
Easy movement
Wheelchair users, as well as those in need of baggage assistance, can get help via InfoPoint.
For suggestions and / or complaints
For any suggestions and / or complaints our colleagues in the InfoPoint are at your disposal.
Please note that in case of prolonged train delays, you can immediately contact the two employees in the "Igloo" who can issue a "certificate of delay".