Flexi(bility) thanks to carsharing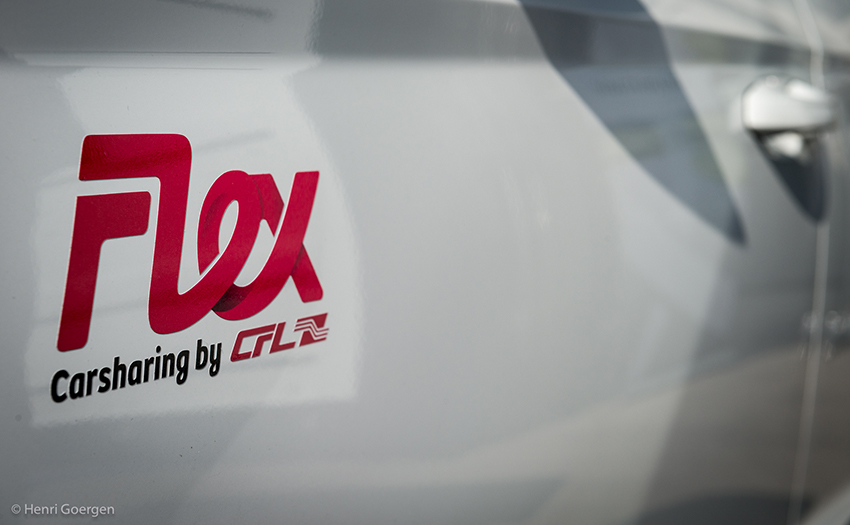 By providing a transport service complementary to trains and buses, since its launch in 2018, the CFL Group's carsharing service Flex, is a significant part of the Grand Duchy's mobility offer. It meets the desire for flexibility of more than 3.000 customers. There is something for everyone, including young student drivers.
The Flex carsharing offer consists of a fleet of 100 vehicles spread over 45 stations in Luxembourg. Most of these stations are connected to the public transport network. Whether for an appointment, for shopping, or even for a trip with family and friends, the Flex service makes it easy to have a vehicle ready when needed at a station, at the end of a train or bus journey. By the way, a station was opened at Findel Airport in December 2019.
A tailor-made route
Unlike carpooling, the customer using the Flex carsharing service decides when, for how long and where to reserve a Flex vehicle.
Automatic transmission, air conditioning, integrated navigation, Bluetooth system and even parking assistance sensors, these are fully equipped vehicles that are offered for short-term rentals, for a minimum of 30 minutes.
Getting to an appointment thanks to Flex and then opting for a different means of transport for the return journey, such as train or bus, is possible. Through its "Oneway" service, launched in November 2019, Flex makes it possible to travel from station A to station B. This service is currently available at 7 of the 45 Flex stations. These stations are located in Luxembourg City (P&R Luxembourg Central Station), Belval, Bettembourg, Mersch, Echternach, Munsbach and Wasserbillig.
The Flex fleet combines practicality with eco-responsibility by offering not only combustion vehicles, but also electric vehicles. Anyone aged 18 with a valid driver's license can sign up with just a few clicks, either via the Flex mobile application or via www.flex.lu and choose one of the subscription options (with or without obligation) available.
A special offer for students
The reservation prices include not only fuel, but also full insurance, maintenance and finally cleaning. This makes Flex the ideal alternative to the private car, where maintenance costs can sometimes be expensive, especially for young drivers.
In this sense, there is a special offer for students. Those who wish to book a Flex vehicle will receive a credit of 30 euros on their Flex account when they present their student identification card at registration. This offer is valid until the student's 30th birthday. 
Reservation via the Flex mobile application
Available for iOS or Android, the Flex mobile application allows you to book a Flex vehicle with your fingertips in just a few minutes. The following video shows the different steps involved in the reservation process.
Vans available for rental
Any plans to move? A few errands to do? Vans are available at four Flex stations, in Luxembourg (Route de Thionville), Bertrange-Strassen (train station), Bettembourg and Diekirch (train station). As with the Flex cars, customers can book these vans themselves directly via the Flex app.
"Pop-Up" stations close to home
The Flex service wants the advantages of carsharing to be available to as many people as possible. Thanks to its new concept of "Pop-Up" stations, a series of short-lived stations, open in several localities across the country, this will be possible. Anyone interested to enjoy the comfort of a Flex vehicle for a few months for everyday journeys. The first Pop-Up station will be installed in Walferdange (Rue de la Gare) until 15th December 2020 (included). Where would you like to see the next Flex "Pop-Up" station?
Do you have any questions?
For more information about the offers as well as terms and conditions about reserving a Flex vehicle, customers are invited to visit www.flex.lu. The Flex-Servicecenter team is available every day on (+352) 2883 3882 (toll-free number) or via email info@flex.lu.
Measurements in the context of COVID-19
Following the recommendations of the Luxembourg Government, the CFL provide a service according to the different phases of deconfinement. If necessary and in order to guarantee your mobility, the Flex carsharing service remains at your entire disposal. To guarantee its service, the Flex team carries out an intensified cleaning of its fleet of vehicles. These cars are systematically ventilated, the inside of the windows as well as all contact surfaces (steering wheel, dashboard, armrests, centre console, etc.) are systematically cleaned. If necessary, the car interiors are also disinfected by a high-temperature steam system. It is also everyone's responsibility to take individual hygiene measures according to the recommendations of the Ministry of Health