New business districts will be easily accessible
engineering works/projects
//
28 June 2017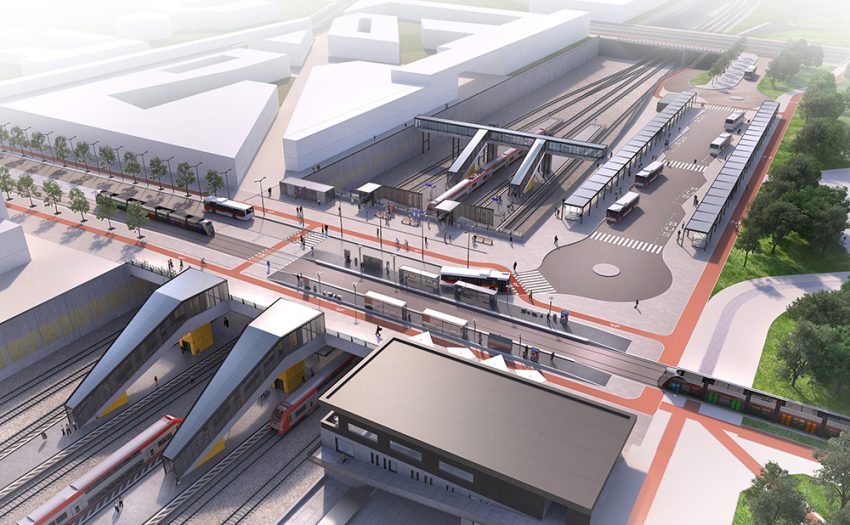 Since the timetable change which occured on 10 December 2017, journeys to Howald, Ban de Gasperich and Cloche d'Or have be eased for a lot of customers. After the commissioning of the first part of the intemodal change platform Howald, works will be continued in order to prepare its final implementation in 2021.
Just like the Pfaffenthal-Kirchberg intermodal interchange, the project for the future Howald intermodal platform is part of the actions undertaken by the Ministère du Développement durable et des Infrastructures (Ministry of Sustainable Development and Infrastructure) in order to better distribute traffic flows in the Grand Duchy, and in Luxembourg City in particular. The construction of this interchange with its outlying train station will make it possible to relieve congestion on the railway network , which has been at saturation point for some time now, particularly around Gare Centrale (Luxembourg central rail station).
Thanks to its location at a strategic point on the rail network, more precisely on the section of the line between Bettembourg and Luxembourg, which has very heavy traffic, this outlying train station is a vital link among all the interchanges planned in Luxembourg City, which will meet growing mobility needs in the Grand Duchy. This project aims to integrate rail transport with other forms of mobility such as bus and tram, and thus facilitate travel for passengers entering and leaving Luxembourg City and within the city. Located at the heart of Ban de Gasperich, a booming economic development, the future outlying train station will play an important role as a key element of this interchange, in preparation for the high increase in the number of passengers travelling to the business districts to the south of the capital. This advantageous location will make transfers easier and offer quicker journey times for passengers.
Since the timetable change the new terminal has been systematically integrated into the timetables of different CFL lines, including all trains of line 60 (Luxembourg – Esch / Alzette – Pétange – Rodange). Passengers of the trains of line 90 (Luxembourg – Thionville – Nancy) also benefit from a direct access to the new station. 1 to 2 trains per hour offer convenient access to the new junction near the "Ban de Gasperich". For passengers of line 10 (Luxembourg – Troisvierges – Gouvy) 1 train per hour travels to the new station; On line 30 (Luxembourg – Wasserbillig – Trier) and on a temporary basis 1 train per hour has been planned.