Helicopter assignments to secure rocky cuttings
Track Nr 10
//
13 June 2017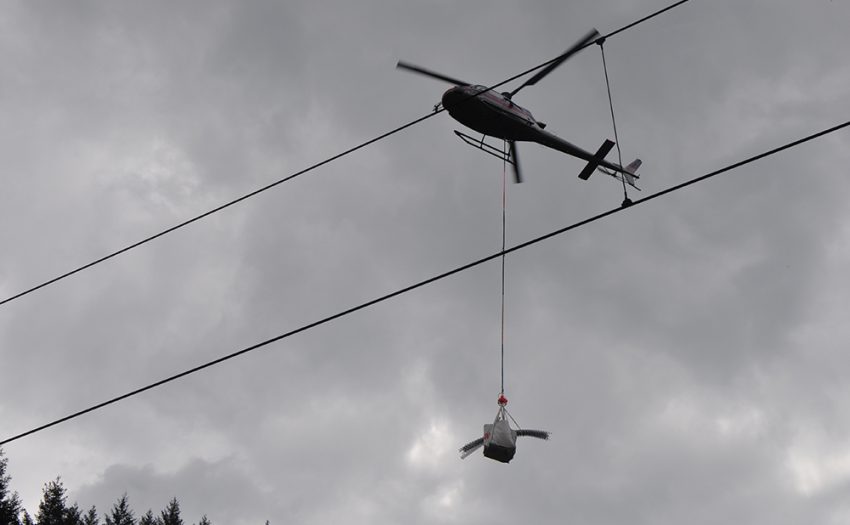 Of the 600 km of railway lines on the Luxembourg network, many sections run alongside rocky cuttings, particularly in the north of the country. To reduce the risks related to the structure and the potential instability of these rocky masses to the strict minimum, stabilisation and strengthening measures are regularly performed along the sections concerned.
Using helicopter transport: effective and safe
A large portion of the rocky areas requiring stabilisation are located in places that are very difficult to access. In this type of terrain, both the delivery of stabilisation/strengthening material (several hundred linear metres of metal mesh and netting or rock bolts) and the installation of these elements can be real challenges. It is in the spirit that the CFL, in partnership with CAN-Voltige, are using a helicopter transport solution. This is an effective solution in terms of cost (considerable time savings) and above all in terms of safety.
Transporting the material by air not only allows us to quickly and effectively overcome the many access restrictions in these environments which are mostly wild, but also enables us to perform the works safely, under optimum working conditions. This is all the more true considering the challenge of having to transport particularly heavy material of a substantial size in an environment that is mainly left in its natural state.
Securing the rocky cuttings at Schwarzepull in 2016
Voltige CAN Video