Measures and accessibility for people with reduced mobility (PRM) on the national rail network
Infrastructure manager
//
16 September 2020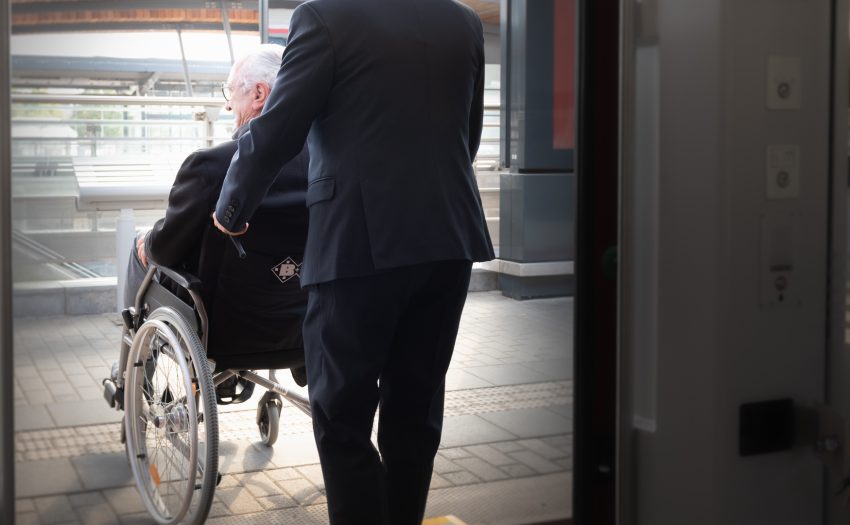 In line with their corporate strategy focused on the well-being and satisfaction of their customers, the CFL are committed to ensuring that their services remain available to all. Therefore, in the spirit of the "Design for all" concept which, as its name suggests, promotes "multimodality for all" through several station and stop construction projects, taking into account the specific needs of people with reduced mobility, the CFL work closely with neighbouring operators. The CFL's aim is to provide adequate and accessible infrastructure for all at stations and stops, as well as on trains, throughout the national rail network.
A journey without barriers
Ramps, elevators, widened doors, several facilities make travelling from a station or a stop easier.
It should be noted that, Luxembourg Central Station has a toilet accessible for persons with reduced mobility, accessible among others by a "EuroKey" key. If you do not have this key, you can call the staff of the "Service Gare" (telephone near the WC), who will open the WC.
Reserved parking spaces
A large number of stations and stops have parking spaces reserved for passengers with reduced mobility. The construction and extension of several CFL car parks is planned until 2025, offering almost 4,000 new parking spaces, including extended spaces to facilitate your travel.
Optimised passenger information
Pictogram signage installed on platforms and around stations and stops ensures that wheelchair users are directed to the accessible ramps, lifts and adapted parking spaces.
Visually impaired people are guided by means of podotactile lines on the ground, to entrances, platforms, stairs, but also to lifts and, finally, to display steles (departures and arrivals of trains in stations) that include the function of acoustic announcements.
The real-time customer information project called AURIS, offering automated visual and acoustic passenger information, was launched in 2017 at the stops and stations of Rodange, Lamadeleine, Pétange, Bascharage-Sanem, Schouweiler, Dippach-Reckange, Niederkorn, Differdange, Oberkorn, Belval-Lycée and Belval-Université and is gradually being rolled out on the national rail network.
Labelled stations
The efforts made to provide optimal reception and support for people with reduced mobility at stations and stops are highlighted through the "EureWelcome" label, awarded by the General Directorate of Tourism of the Ministry of Economy, in close partnership with Info-Handicap.
Until the end of 2019, no less than 20 stations and stops of the Luxembourg railway network have been able to obtain this same label. These are Bascharage-Sanem, Belval-University, Belval-Lycée, Dippach-Reckange, Dommeldange, Dudelange-Usines, Dudelange-Ville, Lamadeleine, Leudelange, Luxembourg, Mersch, Noertzange, Oberkorn, Pétange, Schouweiler, Wilwerwiltz. Howald, Pfaffenthal-Kirchberg, Cents-Hamm and Sandweiler-Contern are the latest to have been adapted to the "EureWelcome" standards.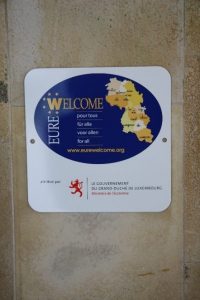 The CFL ensure compliance with European Commission Regulation 1300/2014 of 18 November 2014 on technical specifications for interoperability (TSIs) relating to the accessibility of the European Union rail system for disabled persons and persons with reduced mobility.
Several ongoing or future projects, with a view to increasing the network's capacity by 2024, provide for major transformations, such as the renovation and upgrading of several strategic stations to comply with the technical specifications for interoperability (TSI).
One example of this is the project for the future multimodal interchange at Ettelbruck station. As one of the busiest stations in the country to date, its modernisation is also aimed at improving the connection of the Nordstad to meet the growing needs of passengers.
All information on the accessibility of stations on the national railway network is also available on the website www.eurewelcome.lu and via the EureWelcome application (available free for iOS and Android).
Appropriate rolling stock
Double-deck trains and coaches have ramps, adapted sanitary facilities and spaces reserved for people with reduced mobility.
Not to mention the low-floor CFL buses.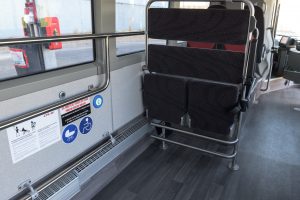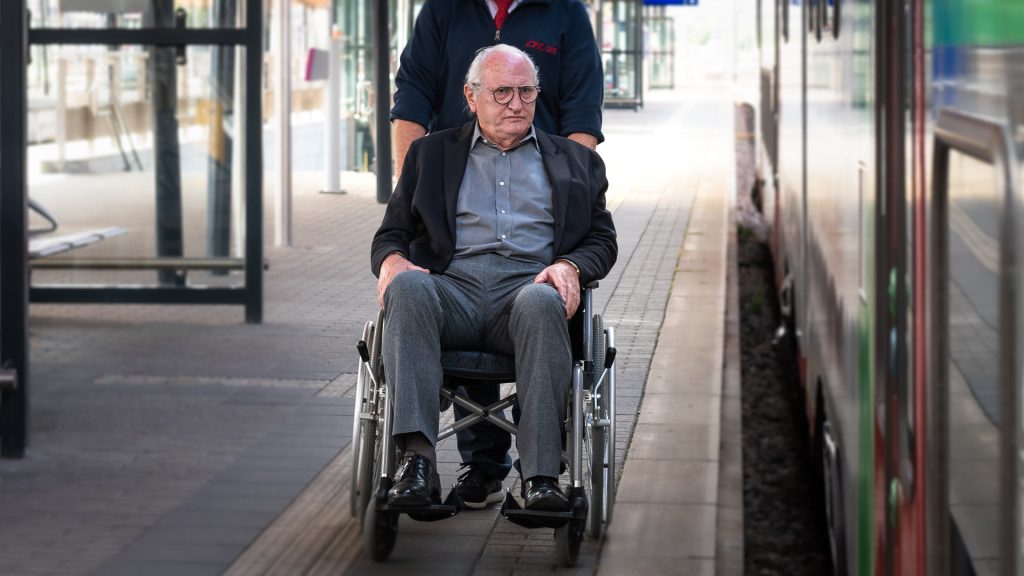 Specially trained staff
Train attendants and station managers are trained as soon as they start their careers at the CFL to take care of people requiring assistance in stations, at platform stops, on trains and even on buses. An adequate service is provided for visually impaired people, or people in wheelchairs, thanks to training sessions supervised by Info-Handicap.
Whether in Luxembourg, Ettelbruck, Wasserbillig, Bettembourg, Esch-sur-Alzette, Belval-Université, Pétange or Rodange, the staff at the station and the station manager remain available for any help and assistance. For their part, the staff accompanying the trains provide assistance service in the trains.
It should be noted that the request for assistance, in order to take the train or bus, must be made 1 hour in advance for national traffic and 48 hours in advance for international traffic. This request can be made by telephone on (+352) 4990-3737 or by e-mail at video-surveillance.zoc@cfl.lu.