Modernisation of the DoSto driving trailers: Automatic passenger counting system
Innovation
//
15 March 2022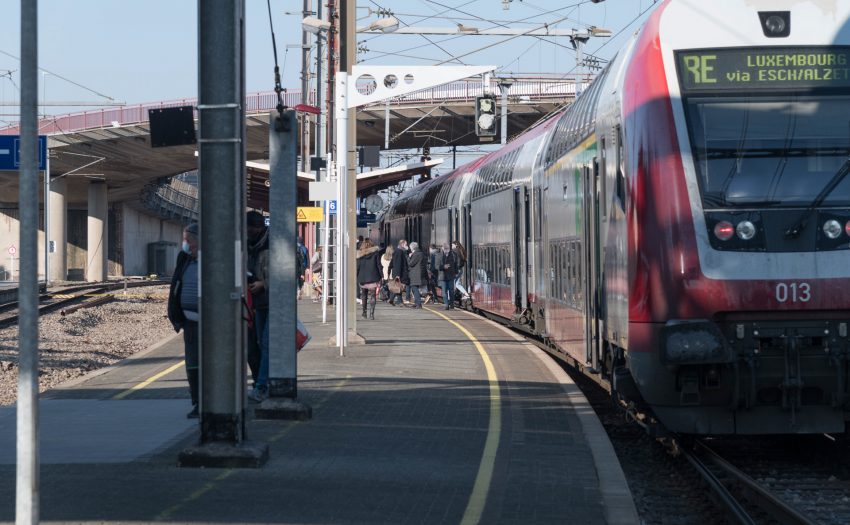 The CFL fleet of 87 DoSto (reversible double-decker) driving trailer is currently undergoing a modernisation process in order to have the latest technology and to constantly improve the service and comfort for the customers. Through several innovative projects, the driving trailers will be gradually renewed and even equipped with new features until 2024. Today, Guillaume, project manager for the upgrade of the DoSto series, explains one of the newly installed technologies to us in detail: the automatic passenger counting system.
Better seat availability thanks to more accurate information about passenger frequency on trains
"By 2024, the CFL will equip every DoSto driving trailer with a modern digital counting system. The goal is to collect concrete information about how many passengers are actually on the train, in real time, throughout the journey."
The new system makes it possible to determine at which stop passengers get on or off the train and to find out more about the number of passengers on the trains on the different routes. This is very important information for the CFL to be able to provide the necessary rolling stock to meet the demand of their customers, Guillaume explains.
"By accurately counting the number of passengers on the trains, we can adjust the train length as needed and add extra carriages at times when a train is regularly very full", Guillaume points out.
Innovative: Knowing the number of passengers in the DoSto driving trailer in real time
Twice a year, the CFL used to work with an external company to manually count the passengers on the trains. These projections made it possible to draw up the rolling plan of the trains (train composition, i.e. the number of carriages needed to meet customer demand). Thanks to automatic passenger counting, it will be possible in future to analyse the number of passengers on board each train individually. This makes it possible to identify selective needs on certain trains (e.g. a lack of available seats) and to adapt the offer to the customers' needs.
At the end of August 2021, the first prototype of the Berlin manufacturer Interautomation was received. In the meantime, a second railcar has been equipped with the innovative counting system, and the next fittings are planned for June 2022. At the Atelier Central, two driving trailers at a time undergo this six-week modernisation process.