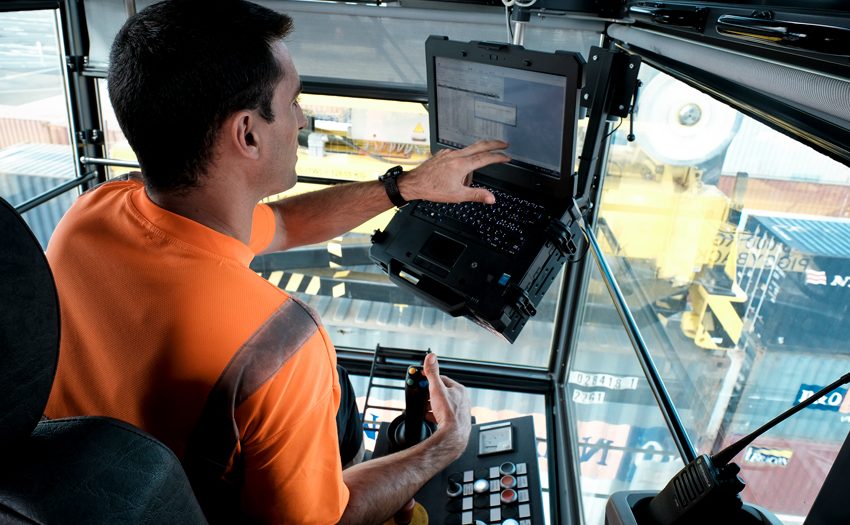 The hustle and bustle never stops at the Bettembourg-Dudelange intermodal terminal! All day and all night goods trains and trucks are loaded and unloaded in a constant flow of arrivals and departures. Officially opened last summer, the terminal is a European freight hub. Boredom is an alien concept here, as no two days are alike. A team of nine schedulers, 15 crane operators, 21 gate operators and 20 platform operators is responsible for handling all these varied activities and their smooth management day by day.
Eric is one of the team. This 37-year-old father from the Luxembourg Greater Region loves his job. A true logistics pro, he helps to ensure the smooth and efficient running of the intermodal terminal. Eric worked for several years as an operator at the controls of enormous gantry cranes, handling containers and semi-trailers carrying very heavy loads. The key to operating these cranes is to move heavy tonnages about as though they were feather-light – no mean feat that demands a great deal of skill and dexterity. We met Eric at the Bettembourg-Dudelange central control room.
How would you describe a typical crane operator's day?
That's easy! There's no such thing as a "typical" day. You never know what the working day will bring. But, there are some rituals at the beginning of every shift. These cranes are never idle, which means they are in continuous operation over three shifts. During the handover procedure – between the night and morning shift for example, the outgoing operators pass on all the relevant shift information to their colleagues, explaining any issues or problems to be resolved before the new shift takes over the controls. The operator is given the plan for the day by the schedulers in the central control room and maintains constant communication with them throughout the day.
What are the main challenges in a crane operator's day?
In general, communication with the other personnel in the central control room and the terminal is crucial. As the crane operator, I am in constant contact with the schedulers, gate and platform operators, inspectors and others. We have to make quick decisions to avoid wasting time during and between handling operators, so all communication must be as accurate and clear as possible. In a typical shift, a crane operator will carry out between 80 and 110 handling operations at about 3 to 5 minutes per operation. You can see how quick my responses have to be and how sharp my concentration, especially when you add in unexpected events. This is the reason breaks are so important to protect operators and maintain the highest safety standards. I also always check the weather before starting my shift. Since modern gantry cranes travel on rails, wind is more likely to stop work than rain, snow or ice. The cranes shut down automatically in high winds as a safety precaution.
What do you like most about your job as a crane operator?
The variety. I love handling different types of containers and trailers or working on different trains at the same time. Operating a crane is really a precision job. Accurate positioning – down to the millimetre – is everything. I have to be constantly on the alert and keep my ears wide open. Our job involves listening to the scheduler, optimising freight cars and loading intelligently, all in a short space of time. The key skills for the job are technical, attention to detail and a culture of safety.
In a nutshell, what are the ideal qualifications for future crane operators?
As I said, clear and accurate communication skills and the ability to make decisions quickly are essential. You must be calm, level-headed and very organised. There can be a lot of last-minute changes, so the crane operator must be alert and observant. Since a handling operation takes only 3 to 5 minutes, operators must also be skilful and quick off the mark. Last but not least, a knowledge of logistics is a plus. I came to the job with some experience of logistics, which was a great help.
How do you become a crane operator?
In my personal experience, once hired, you need about two months to come to grips with the operation of a gantry crane, not forgetting the computerised part of the job. Training takes place in-house at the terminal and is provided by experienced operators. The trainees' skills are then validated by an outside accreditation organisation. In addition, all crane operators receive on-the-job training throughout their career and processes are frequently updated to ensure the highest possible safety levels. Safety is also the priority for the regular visits and check-ups by the occupational physician.
You were recently promoted to scheduler. How has your daily routine changed?
Since my promotion to scheduler, I work mostly in the central control room, but I sometimes go outside on site to carry out inspections or to relieve a colleague. My role is mainly scheduling, organisation and optimisation. We receive weekly train schedules from our customers that are often subject to change at the last minute. Our job is to manage freight traffic, to make sure that trains arrive and leave on time, and to have accurate details on all the freight cars. In other words, I'd say that the schedulers "thinks" for the crane operators. Since we give the orders, schedulers must have good interpersonal skills and be able to get along with a lot of different people.
In a word, we are a tightly knit and experienced team working together to meet our customers' needs in a closely coordinated workflow. Everyone plays their part in the success of the team.