A new look for our TER2N-ng
Innovation
//
28 December 2022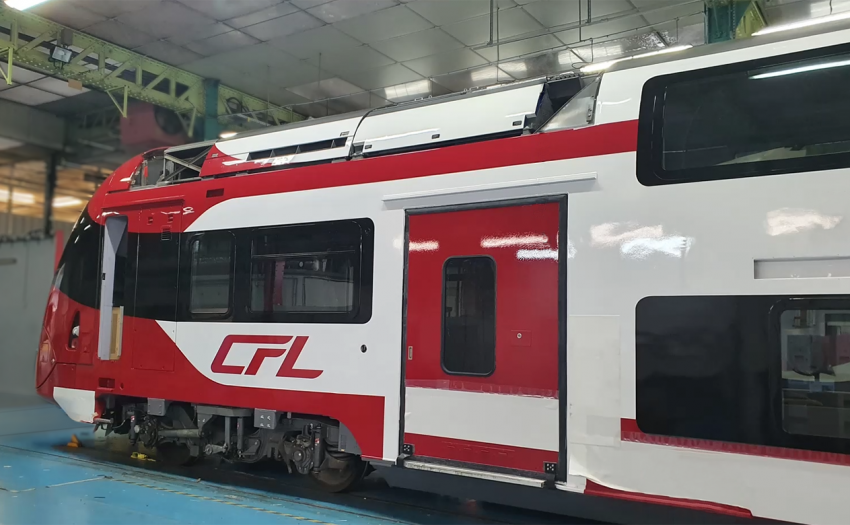 During their "mi-vie" service, the electric railcars of CFL's 2200 series benefit from an update of their inner and outer looks.
When it comes to beauty, it is above all the inner values that count. Nevertheless, during the large-scale "mi-vie" maintenance of its double-deck TER2N-ng rolling stock, the CFL did not refrain from sprucing up the exterior appearance of its electric railcars.
In order to make travelling also a feast to the eyes, the rolling stock is getting a well-deserved new paint job after 18 years from the SNCF Voyageurs' Saint Pierre des Corps (F) industrial technical centre. The fact that the chosen design is strongly reminiscent of the Coradia Stream High Capacity newly ordered from ALSTOM is not a fallacy but a conscious decision by CFL.
A whole 650 litres of paint were necessary for the painting of a TER2N-ng. However, before new paint can be applied, the old paint has to come off. This also takes time, skill and above all … sanding discs. To be precise, 4,000 of them were necessary to sand off the previous paint.
When it comes to filler for repairing minor bodywork damage, the amount of material required also exceeds that of all standard car repair shops. At the end of the preparatory work, i.e. before the first coat of paint is applied, an average of 100 kilograms of it was needed per TER2N-ng with its 3 coaches.
Despite the unusual dimensions and the large amount of material required, repainting a train remains detailed work. No less than 2,000 previously disassembled individual parts (interior and exterior) are also repainted after having been stripped of their old paint. This work by a dozen employees of the industrial technical centre also consumes 350 litres of paint, 40 kilograms of filler and … 5,000 sanding discs.
The painting of individual parts and the outer skin of the TER2N-ng itself takes place in special paint booths. A total of between 5 and 7 coats of paint are applied to the outer skin of the rolling stock and then cure at 60 degrees cabin temperature. After 24 days of work, the result is definitely worth it.