"Cycling is a source of escape"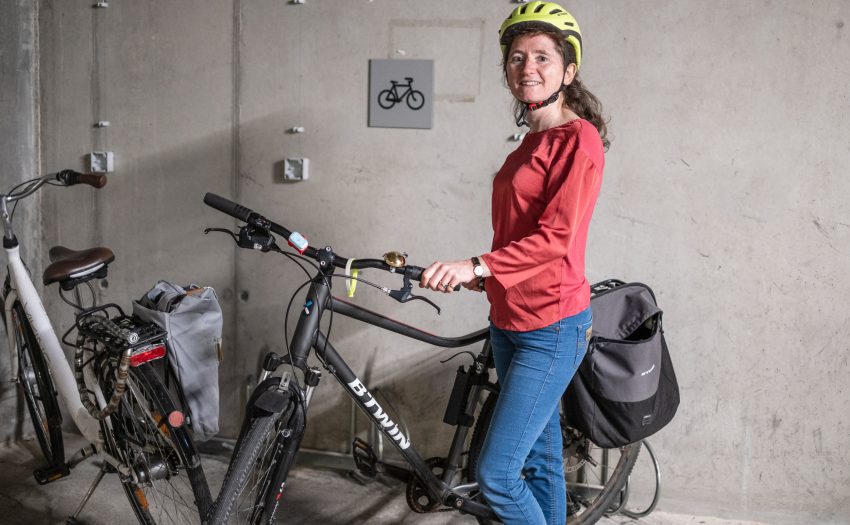 As a passionate cyclist, Laurène naturally chose to take part in the 15th edition of the "Mam Vëlo op d'Schaff oder an d'Schoul" campaign. An opportunity to talk to our colleague about this sporty mode of transport…
Originally from Bordeaux, Laurène has been working at the CFL since 2018. At an average of 6 km a day, she organises most of her daily journeys as a mum and internal auditor around cycling.
How long have you been interested in cycling?
As far back as I can remember, I've always cycled. Later, during my studies, I had to move several times and at each new location I found myself a bicycle. From the start of my working life, I had the opportunity to live in areas close to my place of work, which encouraged me to use my bike rather than my car. The idea of joining the CFL was also interesting for me from that point of view. Among other reasons!
What does cycling mean to you?
Cycling is a real source of escapism for the mind, it's also a way of keeping fit and taking a break between work and home. Whatever the weather, cycling is a must for taking the kids to school, getting around town and getting to the office. Except perhaps if it snows…
Have you shared this passion with your children?
Cycling is part of our family culture, part of our way of life. My husband also cycles on a daily basis, and our children have been on 2 wheels ever since they were able to get on a pushchair and then a bike. That's how they get to school every morning, and it also teaches them a taste for effort when they have to cope with the hills in the city!
What's it like to cycle in Luxembourg?
It's very easy! There's no problem with the different users of active or soft mobility. Thanks to the cycle lanes, the journey is relatively safe. I find that Luxembourg is a fairly 'cycle-friendly' country. That said, cycling has taught me to pay attention to safety, thanks in particular to the CFL's own safety culture.
Do you prefer a city bike or a racing bike?
I ride a standard city bike. The most important thing for me is to cycle, not to have a "state-of-the-art" machine. When my bike breaks down, I use a vel'OH! or borrow my husband's 😊
Tempted by an electric bike?
At this stage, no. As long as I can pedal without assistance and build up my thighs I'm sticking to my habits.
How would you convince a car driver to switch to a bike, or even a bike-station combination?
Cycling energises you first thing in the morning, it's ideal for clearing your head and getting some exercise. In town, cycling is more efficient than driving… and it's better for the environment! If you have the opportunity to cycle, go for it!
Is cycling part of your holiday routine?
It's not a goal in itself, but we very often have the opportunity to cycle at our holiday destination. That said, we're currently thinking about buying a bicycle rack for our car…
Is there a 'cycling spirit' among cyclists?
There is indeed a sort of "cycling community". I'm thinking in particular of our team participation in the "Mam Vëlo op d'Schaff oder an d'Schoul" action. It's an opportunity to exchange best practice and, once again, discuss cycling safety. The company bike park is also a great place to exchange ideas and expand my internal network.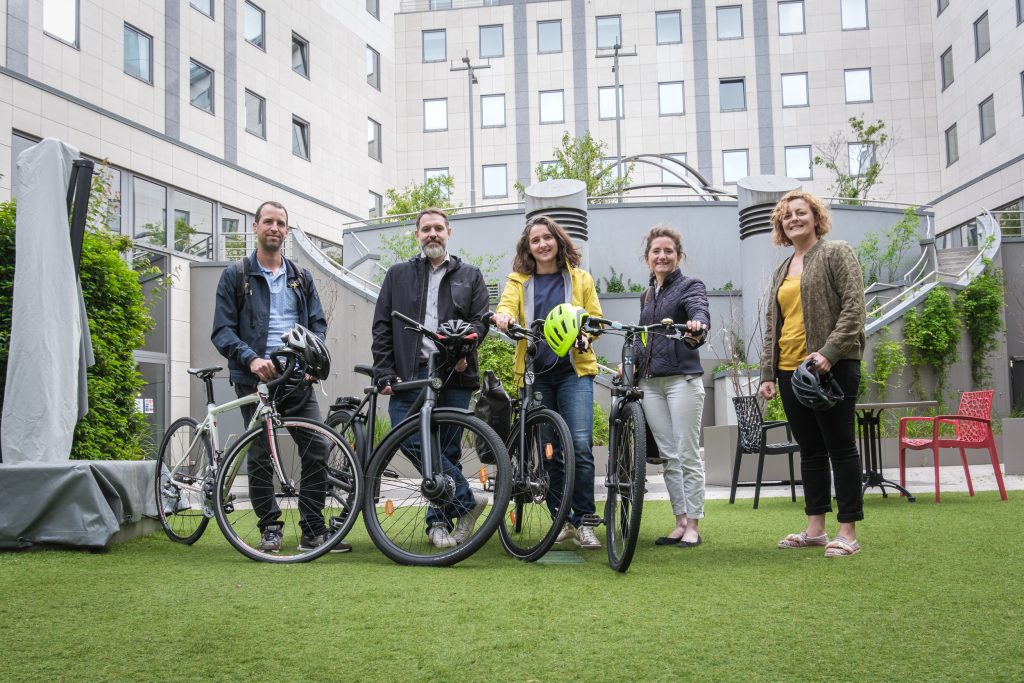 A cycling dream?
When I was a student I dreamed of cycling down the Danube. Maybe that dream will come true one day, in the company of my family…
"Mam Vëlo op d'Schaff oder an d'Schoul" (or MVOS) is a competition organised by the Ministry of Mobility and Public Works, running this year from 15 May to 31 July. The aim of the scheme is to promote the "cycling reflex" and multimodality by encouraging as many participants as possible to record – alone or as part of a team – the kilometres they have travelled. More details here: www.mvos.lu
Stations and bicycles, the winning ticket

As part of its daily efforts to promote sustainable mobility, the CFL have prepared a new strategy for the combination of stations and bicycles for 2022. Developed in collaboration with the Ministry of Mobility and Public Works and in consultation with customers and other relevant authorities, this strategy can be found in detail here. You can also consult the routes in the new "Bike + Rail" book published by ROMDELUXE Productions and available for 43 euros from CFL reception and sales centres (Luxembourg and Belval-Université) and Ernster network sales outlets.