21 m2 dedicated to customer information inside Luxembourg main station
engineering works/projects
//
20 November 2017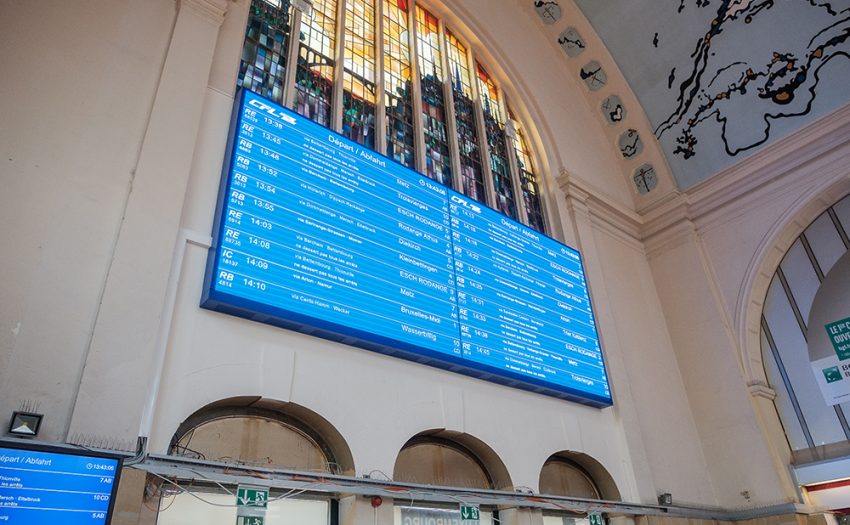 During the disassembly of the old display the archways dating back to the 1950 were unveiled and restored
The new display offers 21 square meters, entirely dedicated to customer information inside Luxembourg main station
During their walk through Luxembourg main station, many travelers already had the opportunity to discover the brand new display. Several weeks ago, coworkers of CFL and Funkwerk started with the disassembly of the older panel and the installation of the brand new eye-catcher. The technology behind the two panels couldn't be more different. The considerably smaller split-flap display (approx. 3 meters x 4 meters) was replaced by a XXL-sized LED-panel consisting of 432 individual elements. With its substantial width of 7,3 meters and a height of 3 meters, the new panel offers a 21 square meters display with 3 million pixels – entirely dedicated to customer information.
Color and graphics-capable, the new display offers numerous and flexible possibilities for the publication of customer-relevant information inside Luxembourg main station – a significant advantage in comparison with the former split-flap display for which changes of colors, font sizes or similar always required the replacement of numerous individual elements.
The replacement of the display inside Luxembourg main station is part of the latter's renewal process. During the dismantling of the supporting structure of the old panel, the archways dating back to the 1950s were unveiled and restored. In the following months further modernizations will occur inside Luxembourg main station. In 2018, more than 100 screens will be replaced in order to provide further channels for improved customer information.