The Mersch project – Part II
engineering works/projects
//
11 November 2021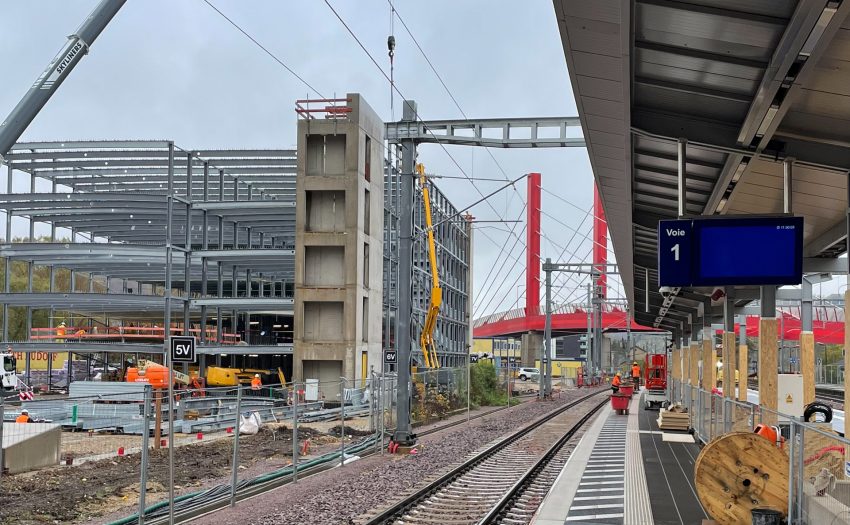 Since 2019, work on the Mersch intermodal hub has been progressing in leaps and bounds. Recently the new and barrier-free accessible underground passage has opened for customers, while the work on platform II is continuing.
Wider, longer, better. Piece by piece to the new platform II
After a first part of platform II and the new northbound track 1 were put into operation in August 2021, the final expansion and widening of the platform in the center of the station will now follow. A total of 44 prefabricated individual concrete elements will be needed to be assembled, piece by piece. The new platform will measure just over 250 meters.
To make this possible, despite an impressive weight of up to 12.5 tonnes per individual part, not only a lot of experience is needed, but also special machines. A rail crane, which was specially brought to Mersch station from Germany, assists in placing the individual parts, which can be up to 7.5 meters long.
Longer platforms for improved seating capacity
At the end of the work on platform II, it will have the necessary length to be able to accommodate trains with a length of over 200 meters. This is an important prerequisite to offer more customers a seat, even at peak times. To ensure that these additional passengers can also move safely on the platform, it was also widened. This creates additional space and freedom to move.
What will happen next in Mersch?
Once the work on platform II is completed in August 2022, platform I, which provides access to trains heading towards Luxembourg, will also be extended and widened. Work will also continue on the underground passages. This means that customers, regardless of whether they are approaching the station from the north or the south, will have optimal access to the platforms of their train.
From December 2022: 408 new parking spaces directly at Mersch station
To make it even easier for customers to switch from car to bus and train, a new 5-storey parking with over 400 spaces is being built in the immediate vicinity of the station. In the planning of this building, special attention was also paid to its barrier-free design. Not only 3 staircases but also 2 lifts, guarantee a barrier-free access for customers with reduced mobility. The new multi-storey parking will be completed by December 2022. A convenient feature: the motorway exit and access are only a few minutes' drive away.
The Mersch project
The modernisation and expansion of Mersch station already began in 2019. By June 2023, another foundation stone will be laid here for a better barrier-free connection of the north with the whole train network. The future intermodal hub will optimally connect the different modes of transport and thus make the use of public transport even more attractive. A redesign of the track plan with additional switches will ensure improved train flow inside Mersch station, especially at peak hours, and offer more flexibility in the event of any disruptions.