#myjob : mechatronics technician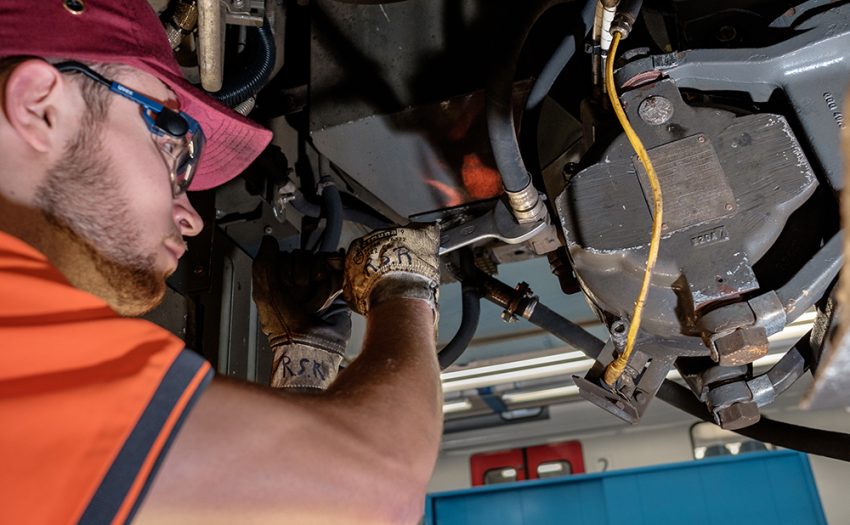 There are hundreds of employees permanently at work to ensure that CFL trains can run smoothly every day. Their top priority: Maximum safety for all users of the railway infrastructures. The trains are made fit for everyday operations at the main workshop in Bonnevoie. Over 200 employees work there in the most diverse professional groups: Mechatronics engineers, metal workers, electricians, air-conditioning technicians, logisticians, engineers and many more work side by side to transport the CFL rolling stock, passengers and train crew day by day to their destination. One of the approximately 70 mechatronics engineers working there is 24-year-old Ramon. We talked to him about his job.
As a mechatronics technician, Ramon works on electronic locomotives. In his everyday work life he assures mechanical work on the underbody of the vehicles.
Ramon, how long have you been working at the workshop?
In 2008 while still going to school, I went to CFL to begin my training as a mechatronics engineer. Since then, I have learned so much more and have already worked in various teams. Here in the main workshop, the craftsmen are divided into teams, which work independently on different engines. For example, some crews are assigned to so-called double-deck driving trailers ("DoSto") or, then again, to railcars of the 2000 ("Z2"), 2200 ("TER2N") and 2300 ("KISS") series. Up to 01 October of this year I was working on the Bombardier class 4000 locomotives. Since then I have been assigned to the Alstom 3000 locomotives.
What are your duties as mechatronics engineer?
I am primarily responsible for the service, repair and maintenance of electric locomotives. This includes, for example, the scheduled replacement of parts, which, depending on the train mileage, that is after a certain number of operational hours, must be changed, or even the breakdown service in the event of a defect. I am part of the electrician staff but sometimes I do also undertake mechanical tasks.
The maintenance intervals of the locomotives on which we work differ depending on the manufacturer: A 4000 locomotive, for example, is due for service every 15,000 kilometres, in other words, depending on utilisation, about every five to six weeks. We have at least 20 locomotives from this class alone, which we regularly take care of.
How would you describe your typical workday?
In the workshop I work either the early shift, from 7.00 am to 3.00 pm or 4.00 pm, a day shift from or from 8.00 am to 4.00 pm, or the late shift from 8.00 pm to 5.00 am. Before coming on duty, I put on my work clothes and join my team. We are assigned our tasks by the foreman at daily team meetings. The engine drivers submit requests for the breakdown service to the dispatcher by the entry of repair requests that they noted in their so called "carnet de bord". The dispatcher transmits these requests to the planning unit that saves the malfunctions in their management tool and informs our foreman. There are usually several people working on an engine at the same time – one part of the job belongs to the electrician, one to the metal worker and there is often also an assistant on hand.
Safety always comes first in our work. That is why we work strictly by the book. This includes the fact that we always wear our protective clothing and the responsible usage of the workshop's infrastructures such as the switchable catenary, the work platforms on the roof, the cranes, etc. For example, when we are on the roof of an engine, close to the catenary, the power supply to the overhead wiring must be switched off and earthed. We secure our workstation with a personal padlock. It is impossible to switch the overhead wiring on at our workstation without removing our lock.
What challenges do you face in your everyday work and what skills are required?
In my profession I bear a lot of responsibility together with my colleagues as safety takes priority, whether in the occupational safety or in the operational safety domains. Sometimes, during an inspection, we also discover unexpected areas where repairs are needed and where a decision has to be taken whether a train can be put into circulation or not. For example, as soon as I discover a fault on visual examination, I have to be able to notify the foreman about it with as much detail as possible as he decides on what must be repaired and when the work is to be carried out. This is why effective communication plays such an important role. The ability to work in a team is also essential: We must be considerate of our colleagues at all times, for instance taking care when testing a horn or releasing compressed air that nobody else is nearby at that moment. So, a sense of responsibility is of great concern to us. Risks must be minimised by applying the right techniques. Last but not least, flexibility helps in the case of unforeseen events.
What do you especially like about your job?
My work is very versatile. All told, a complex interaction of many individual processes is crucial to guaranteeing the proper functioning of an engine. That is what makes the work of a mechatronics engineer so exciting. There is a certain thrill about finding out what is wrong with an engine. And it is always such a pleasure to be able to learn from each other: For example, watching how other colleagues work on something allows me to develop new approaches and skills in my own work.