On the tracks of customer information: station signage
engineering works/projects
//
17 August 2022
Customer information plays an important role for travellers, especially during major engineering works and necessary closures. How do I get to my destination despite the closure? When and where do rail replacement buses run? What are my other options?
To provide answers to these questions, the CFL offer a wide range of information channels, including the electronic timetable search and the information on the CFL website and CFL mobile app. Customers, however, do not want to be informed only digitally. That is why, in the railway stations, they are assisted by clear and comprehensible signage posts.
This is where Noémie comes in. At the CFL, she is responsible for creating and installing the signage posts in the stations across the country.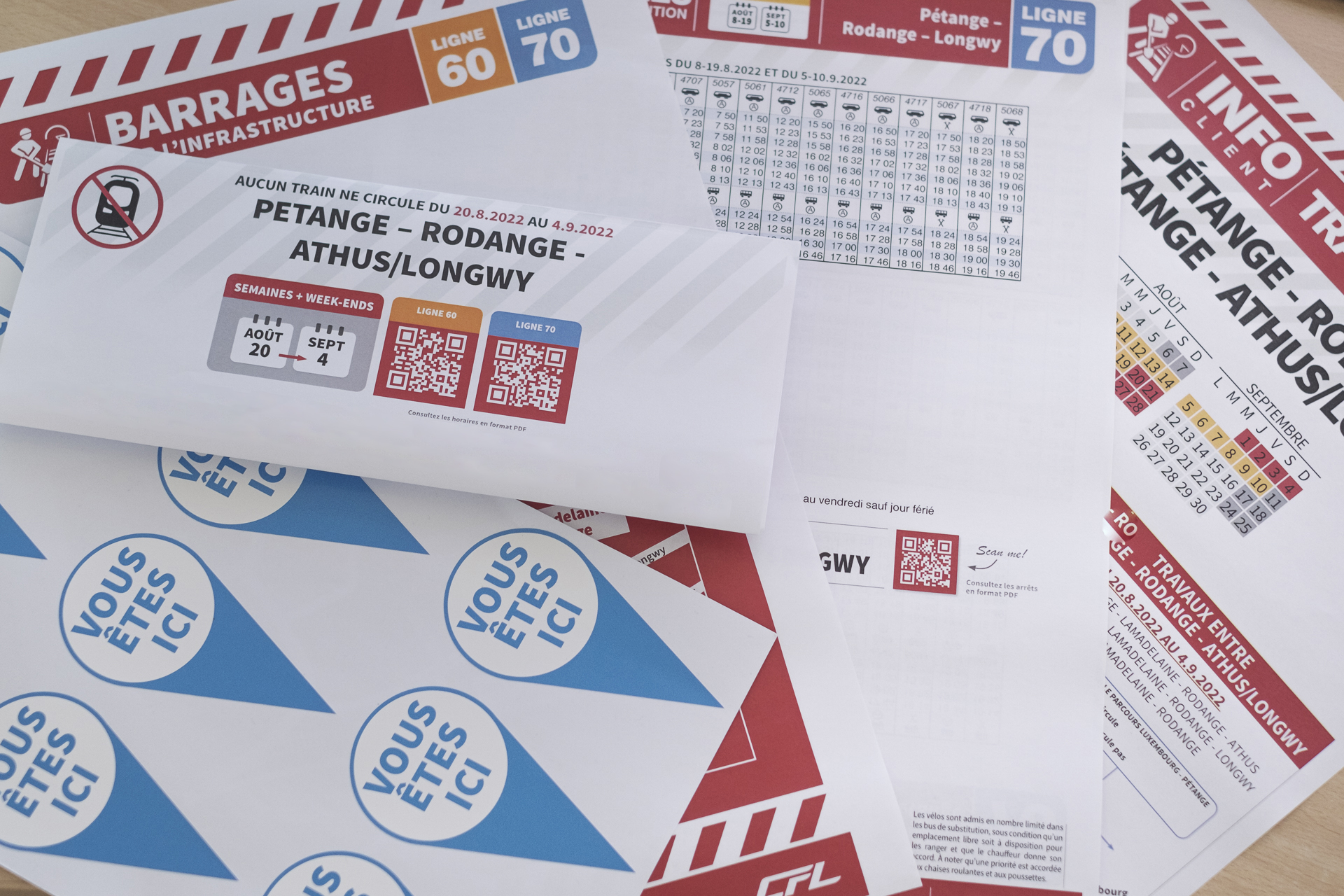 "Important information has to be easily identifiable, especially while walking past," she explains to us. Together with those responsible for the engineering work and other colleagues, including those who create the rail replacement timetables, she determines, from a multitude of technical information, the elements of importance to the customer. A major focus of her work lies on the clarity of the finished signage.
"The main challenge consists of presenting only the most essential and important information. Anything else may cause confusion among our customers," underlines Noémie.
Once the layout is in place, Noémie collaborates with the in-house print shop and the teams which install the signs. In her work, not only is the content of the signs carefully deliberated, but the location of the signs is not chosen at random either: they are installed in places where they are best visible to the customer. Thus, through a display of true teamwork, customers are supported as best as possible during engineering works. Noémie is well aware of the importance of her work.
"My signs are essential for the information and orientation of our customers. Together with my colleagues, I ensure that customers are well informed in our stations. Knowing that my work helps them to navigate better through the day makes me proud and happy," says Noémie.
However, for improved customer information in the railway stations, Noémie's work is not "only" limited to the installed signage posts. The creation of posters and booklets, which also contribute to improved customer information, is also a part of this dedicated employee's responsibilities.