With the CFL your luggage is in good hands
Simply explained
//
15 January 2020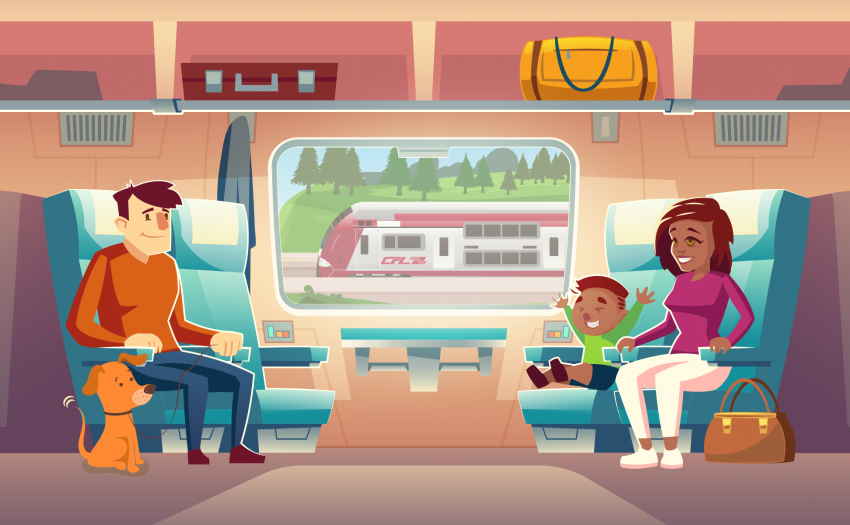 You want to travel by train and are travelling with a piece of luggage, your bicycle or a pram? Or are you travelling with your four-legged companion? No problem. If you make some preparations in advance, you can board the train at your leisure.
Hand luggage is allowed free of charge on board CFL trains. Travel bags, backpacks or suitcases, their weight and size must allow for easy transportation. The CFL also appeals to common sense and asks passengers not to block the free neighbouring seats by placing personal luggage on them. Remember to stow your luggage, whether above or below your seat or in any other storage space provided for this purpose, to avoid disturbing your seat neighbours.
Each piece of luggage carried must be marked by the passenger who belongs to. Before you leave, remember to label your bag or suitcase and write your name, surname and address on it. This will ensure that your luggage will be returned to you promptly. Any unidentifiable luggage, on the other hand, will be considered as suspicious and will be destroyed if the case arises. It should be remembered that it is forbidden to carry explosive, flammable or corrosive substances on the train.
Do not hesitate to trust us with your luggage
Enjoying a walk in the capital without having to worry about your luggage? That is possible! At 5 euros per 24 hours started per item handed in, you can leave your bag or rucksack at the luggage storage counter, not far from platform 3AB at Luxembourg Central Station. Of course, bicycles, prams and the wheelchairs of persons with reduced mobility are also accepted, as long as there is enough storage space. The luggage storage is open daily from 6AM until 9.30PM. On Christmas Eve, the luggage storage closes its doors exceptionally at 8PM.
Is your pet travelling with you?
In case you want to take your faithful four-legged companion with you, it is good to know that dogs of all sizes travel free of charge on the trains that run on the Luxembourg rail network. Dogs must be kept on a leash and are not allowed to sit on the seats. As your pet must not pose a risk to your fellow passengers, a muzzle is recommended in certain cases. Smaller pets will be taken along, also free of charge, in their basket or cage.
Would you like to take your bicycle with you on the train?
As with your luggage or pet, taking your bicycle on the national rail network is free of charge. When you board the train, you can easily identify the bicycle parking spaces on CFL trains thanks to the doors marked in green.
Heads up! The number of bicycle stands vary depending on the type of train. The transport of a bicycle can only be guaranteed within the limits of the available spaces.
Whether you are travelling with an animal, a bicycle or more or less bulky luggage, transport conditions vary according to the company and the operator. You can avoid unpleasant surprises by finding out about the conditions and ticket prices in advance by calling our Call Center (+352) 2489 2489.
The information department ("Service renseignements") can be reached
• Mondays to Saturdays from 6AM until 9.30PM
• Sundays and public holidays from 8AM until 9.30PM
The Call Center (international ticket sales) works
• Monday to Friday (except public holidays) from 7AM until 7PM
In addition, the facilitates for people with reduced mobility, such as ramps, lifts or wider doors, also accommodate passengers with bulky luggage, as well as people with prams or cyclists and their bikes.
For more information on the services and accessibility of the stations of the nationwide rail network, please visit our website www.cfl.lu